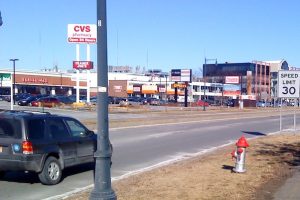 CVS Health Corporation's organizational structure determines decision-making processes and the allocation of resources among the company's subsidiaries, such as CVS Pharmacy and MinuteClinic. Structural requirements are typically addressed through operational groupings that are represented in the retail pharmacy and healthcare company's organizational chart, which depicts the structural aspect of the enterprise's overall organizational design. CVS's corporate structure influences the business organization's capabilities in developing competitive advantage. For example, the form, system, and arrangement of the corporation's lines of authority and communication in strategic management are based on the characteristics of the organizational structure. In this regard, it is essential to design and continuously adjust the corporate structure's design to minimize possible strategic barriers within the healthcare and retail pharmacy's organization. CVS's corporate vision and mission statements lead to strategies whose implementation trickles down via the company's organizational structure. In this way, the structural framework is among the determinants of how streamlined and effective strategic implementations are in subsidiaries like MinuteClinic.
CVS's organizational structure affects how strategies are developed and implemented to counteract the negative forces of competitors, such as large firms with healthcare or retail operations like Walgreens, Express Scripts, Rite Aid, and Walmart. Competition imposes pressure on the organizational headquarters to ensure that the corporate structure matches the structural support needed for competitive advantage and for the strategic objectives linked to CVS Health's generic strategy, intensive growth strategies, and business model. As a major competitor in the retail pharmacy and healthcare industries, the company maintains a corporate organizational structure that is based on its business types, according to the operations of its main subsidiaries or divisions.
CVS's Cooperative M-Form Organizational Structure & Structural Characteristics
CVS has a cooperative M-form organizational structure, which in this case is essentially a product-based divisional organizational structure. The company has an M-form structure, which has multiple divisions or subsidiaries, such as CVS Caremark, CVS Pharmacy, MinuteClinic, and the Brazilian subsidiary Drogaria Onofre. In addition, this corporate structure is cooperative in terms of the divisions' cooperation in sharing information and resources, such as retail pharmacies' physical space shared with MinuteClinic clinics. Also, for example, prescription information is shared between CVS Caremark and CVS Pharmacy to streamline operations in providing convenient prescription filling and delivery services to customers.
The workflows and operational processes within the company's corporate structure utilize and are dependent on core competencies distributed throughout the enterprise, as shown in the value chain analysis of CVS and its VRIO/VRIN resources and capabilities. Within the M-form organizational structure, the corporate headquarters apply financial requirements on all the divisions or subsidiaries, such as financial targets for MinuteClinic operations for specific fiscal years. In this structural system, CVS Health Corporation has executive vice presidents who, together with the CEO, compose the corporate executive team at the headquarters. Also in this corporate structure, each of the company's divisions or subsidiaries has a president, who also doubles as an executive vice president in the corporate executive team. For example, the president of CVS Pharmacy is also an executive vice president of CVS Health Corporation.
Strategic Implications of CVS's Corporate Structure
Economies of scope are one of the strategic advantages of the healthcare and retail pharmacy firm's organizational structure. For example, the cooperation between MinuteClinic and CVS Pharmacy leads to a wider service scope that improves competitive advantages by increasing convenience and cost savings that benefit client organizations and individual consumers. Another strategic advantage of the company's corporate structure is the support for potential further diversification, although this approach is limitedly used in the enterprise, as its strategic plans focus mostly on retail pharmacy operations and healthcare and related services. Still, the corporation can achieve higher growth by diversifying its operations along with such structural support. These advantages of the corporate structure help in boosting the strengths shown in the SWOT analysis of CVS Health Corporation.
CVS's M-form corporate structure comes with the enterprise's organizational complexity, but improves business-specific and product-specific strategic focus. The company relies on its organizational structure to translate corporate strategies into specific tactics within the scope of each division's operations management and operational goals. For example, corporate strategic initiatives are translated to operational tactics and objectives in MinuteClinic clinics and the firm's retail pharmacies. To achieve operational effectiveness and associated competitive advantages through the organizational structure, human resources strategies must ensure that CVS's corporate culture motivates employees to partake in their respective business areas' creation of competitive advantage.
Key Points on CVS's Organizational Structure
This structural analysis establishes that CVS's M-form divides strategic management implementations into the businesses of the subsidiaries within the enterprise. This organizational structure allows considerable autonomy and corresponding organizational flexibility to ensure that each division or subsidiary achieves its business goals as it competes against other players in the healthcare and retail pharmacy markets. Also, CVS can improve its strategic position by diversifying its businesses, considering that diversification is already supported through the corporate structure. The cooperative nature of the corporate structure helps optimize new competitive advantages created through diversification.
References
Anken, F., & Beasley, J. E. (2012). Corporate structure optimisation for multinational companies. Omega, 40(2), 230-243.
Cowen, M. E., Halasyamani, L. K., McMurtrie, D., Hoffman, D., & Polley, T. (2008). Organizational Structure for Addressing the Attributes of the Ideal Healthcare Delivery System/Practitioner Application. Journal of Healthcare Management, 53(6), 407.
Csaszar, F. A. (2013). An efficient frontier in organization design: Organizational structure as a determinant of exploration and exploitation. Organization Science, 24(4), 1083-1101.
Gaba, V., & Joseph, J. (2013). Corporate structure and performance feedback: Aspirations and adaptation in M-form firms. Organization Science, 24(4), 1102-1119.
International Trade Administration of the U.S. Department of Commerce – The Retail Services Industry in the United States.
Robeznieks, A. (2013). Retail clinics at tipping point. Pharmacies, chains answering demand for access and affordability. Modern Healthcare, 43(18), 6-7.