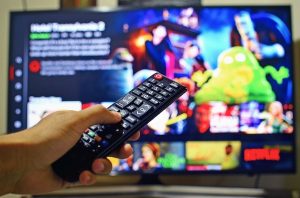 Netflix Inc.'s organizational structure is hierarchical but with modifications that account for business flexibility and responsiveness to global market changes. Through this corporate structure, the company is able to continually evolve to offer original entertainment content and on-demand media streaming service that attract target customers around the world. Thus, the organizational structure allows for the achievement of Netflix Inc.'s corporate mission statement and corporate vision statement, which point to the strategic goal of leadership in the online entertainment industry. A firm's organizational structure is the practical manifestation of organizational design elements that influence how various components of the business function and work together. In this business analysis case, Netflix's structural framework provides the necessary form and composition to ensure that the business responds well to changes in consumer preferences. Through its corporate structure, the online enterprise keeps its corporate headquarters up-to-date with operational concerns that require changes in strategic management direction.
Netflix Inc.'s corporate structure is based on the business need to make rapid decisions as a way to respond to changes in the online entertainment market. This organizational structure allows the company to effectively perform against strong competitors, such as Amazon, Walmart, Apple, YouTube (Google), Disney, and HBO, among others. Netflix Inc.'s business model, generic strategy for competitive advantage, and intensive growth strategies are all linked to the company's corporate structure and how its configuration supports strategic implementations.
Netflix's U-Form Organizational Structure
Netflix Inc. has a U-form or unitary organizational structure that involves a hierarchy for maintaining executive control and direction throughout the organization. However, this corporate structure is relatively flat compared to many businesses that have a hierarchical organizational architecture. For example, in Netflix's organizational chart, all the main business executives directly report to the CEO. This organizational structural design reduces the management levels needed to escalate issues from the online company's bottom-line to its organizational headquarters. The following are the main characteristics of Netflix's corporate structure:
Functional groups for online and non-online operations
Geographical divisions for managing regional markets
Divisions for various product types and operation types
Functional Groups are based on business functions, such as human resource management, which in Netflix's corporate structure is called "Talent." The hierarchy in the online company's structural system is based on these groups. For example, strategic initiatives from Netflix's CEO are disseminated downward through vertical lines of authority and communication. Despite this hierarchical design, the company's organizational structure is relatively flat because of the minimized levels of middle management, enabling the business organization to rapidly respond to changes in the entertainment industry. This flatness is related to Netflix Inc.'s corporate culture, which promotes open communication and cooperation, despite the unitary and hierarchical nature of the corporate structure. Top executives at the corporate headquarters provide the strategic management decisions for the entire organization's streaming operations. As is represented in its organizational chart, Netflix's organizational structure has the following main functional groups or offices:
CEO
Legal
Talent
Finance
Product
Content
Communications
Geographical divisions in Netflix's organizational structure enable strategic management specific to regional market characteristics. The online entertainment company addresses strategic challenges in marketing through the support of its corporate structure. For example, Netflix develops its advertising campaigns with this organizational structural aspect in mind. These geographic segments reflect the multinational market trends that are most significant to the company's strategic plan for growing its member base, in terms of aligning marketing strategies to target customers' entertainment preferences. The SWOT analysis of Netflix Inc. enumerates some of the strengths and competitive advantages that the corporation uses to effectively compete in these markets. The on-demand digital content streaming company's corporate structure has the following divisions for its operating segments:
Domestic Streaming
International Streaming
Divisions for products and operations are a corporate structural aspect that represents the two main types of outputs in Netflix Inc.'s business model: original programming and other content. The company's organizational structure is more closely associated with "other content," considering that the online platform distributes or streams such content. However, original programming operations are a major factor in Netflix's corporate structure, as the business attracts customers and generates revenues through its original TV series and movies. The strategic objective of these organizational structural divisions is to achieve operational effectiveness in separately managing content distribution and content production. In summary, the following divisions are an aspect of Netflix's corporate structure:
Original Programming
Other Content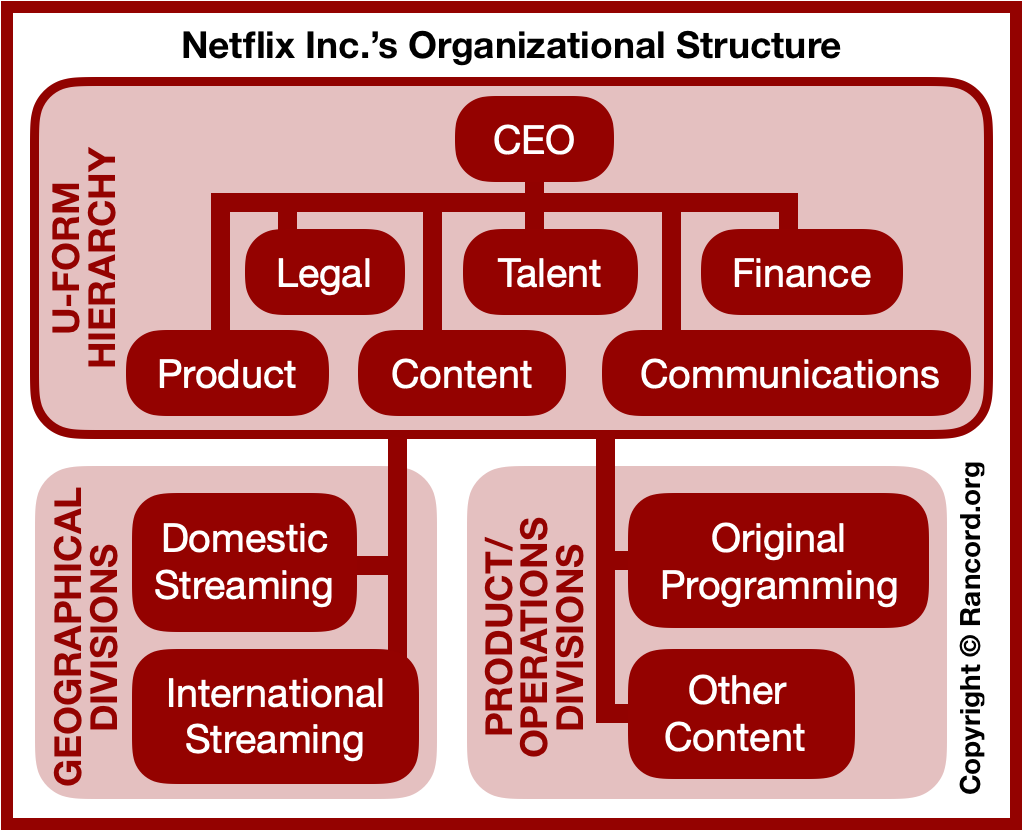 Key Points on Netflix's Corporate Structure
Netflix Inc.'s organization is a structural framework that prioritizes executive control from the company headquarters, as evident in the unitary form of the corporate structure. The online business ensures flexibility based on the flatness of this organizational structure. In addition, with geographical divisions, Netflix achieves marketing effectiveness through its organizational design. This structural analysis case also shows that the corporate structure supports strategic management for content distribution (via Other Content) and content production (via Original Programming). As a result, Netflix's organizational structural system has evolved to accommodate original programming. As original content production increases, so does the significance of the Original Programming division in the company's corporate structure. The VRIO/VRIN analysis and value chain analysis of Netflix Inc. offer insights on how organizational structural components, such as product/operations divisions, are linked to operations management and the creation of value to satisfy customers.
References
Ashkenas, R., Ulrich, D., Jick, T., & Kerr, S. (2015). The Boundaryless Organization: Breaking the Chains of Organizational Structure. John Wiley & Sons.
Baskici, C., & Ercil, Y. (2018). Corporate structure analysis of organizations from network perspective. Research Journal of Business and Management, 5(3), 231-237.
Salimova, T. A., Biryukova, L. I., Makolov, V. I., & Levina, T. A. (2015). Conceptual Provisions of Formation of the Quality Management System Within the Integrated Corporate Structure. International Business Management, 9(6), 1129-1135.
Schildt, H. (2017). Big data and organizational design – the brave new world of algorithmic management and computer augmented transparency. Innovation, 19(1), 23-30.
International Trade Administration of the U.S. Department of Commerce – The Media and Entertainment Industry in the United States.
International Trade Administration of the U.S. Department of Commerce – The Software and Information Technology Services Industry in the United States.
Winnubst, J. (2017). Organizational structure, social support, and burnout. In Professional Burnout (pp. 151-162). Routledge.