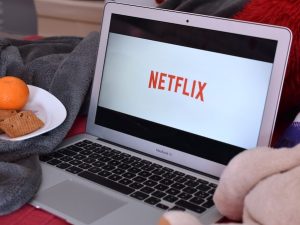 Netflix Inc. presents its organizational culture as unusual, especially with regard to how employees are encouraged to behave in the workplace. The company applies its corporate culture to develop resilience among its workers, as a way to support growth in an increasingly competitive on-demand digital media streaming industry. This organizational cultural system makes the online platform effective toward fulfilling its value proposition, and ensures the competitive advantage needed for Netflix's business model, generic strategy, and intensive growth strategies. The company uses its corporate culture to maintain a framework of core values, beliefs, business philosophy, and behaviors that permeate its workforce and motivate individual employees to support innovative ideas for online business growth. For example, via the corporate culture, Netflix facilitates communication to enhance the sharing of new ideas throughout the organization. This organizational culture helps make the media streaming enterprise competitive in terms of innovativeness. Through cultural cues, Netflix strengthens its strategic position in the industry.
Netflix's corporate culture encourages employees to explore new ideas and ways of achieving their work objectives. This condition promotes competitiveness against firms like Apple, Amazon, Walmart, Disney, YouTube (Google), and HBO. Such a competitive environment imposes pressure on Netflix to continually seek business improvements, such as through strategic application of the corporate culture, to make the online service and original content/original programming (TV series and movies) more attractive. The corporation's organizational culture addresses some of the challenges in this industry environment, such as innovation and the alignment between the entertainment service and target consumers' preferences. Netflix's organizational culture serves as a strategic management approach for the competitive advantage and growth of the business.
Netflix's Organizational Culture: An "Unusual Employee Culture"
Netflix Inc.'s corporate culture is based on a core philosophy that prioritizes people. The corporation addresses the needs of its human resources to ensure that its online business processes are effective and profitable. This organizational culture contributes to the streaming company's employee morale, effectiveness, and overall human resource development. The following are the main traits that characterize Netflix's corporate culture:
Independent decision-making (Autonomy)
Open, broad, and deliberate information sharing (Communication)
Extraordinary candidness (Attitude)
Focus on high effectiveness (Productivity and Effectiveness)
Rule avoidance (Rules and Organizational Rigidity)
Independent decision-making aligns with Netflix's "people over process" approach to its organizational culture. For example, this cultural characteristic motivates employees to develop personalized approaches to solve challenges in their jobs and problems in the movie streaming business. As a result, the corporate culture equates to employee autonomy and promotes initiative at the bottom-line, and enhances Netflix's ability to develop new capabilities for competitive advantage and growth. Based on this trait of the organizational culture, the online company optimizes its employee turnover, thereby increasing efficiencies in human resource development and related strategic management efforts.
Open, broad, and deliberate information sharing is an aspect of Netflix's corporate culture that relates to communication effectiveness. As an online business that depends on innovative ideas and data on market and consumer trends, the company utilizes its organizational culture to support the effective and efficient dissemination of information to guide strategic decisions and management initiatives. The flatness of Netflix's corporate structure aligns with this aspect of the organizational culture by supporting effective and efficient communication throughout the enterprise. This corporate cultural factor helps minimize communication challenges that present barriers to the online organization's growth. This cultural characteristic also motivates Netflix's workers to openly communicate about their job-related problems, thereby facilitating optimal solutions.
Extraordinary candidness is an organizational culture trait that encourages Netflix's employees to maintain an overall attitude of sincerity and objectiveness. The previous trait (open, broad, and deliberate information sharing) directly relates to such candidness throughout the online company's human resources. However, this extraordinary candidness pertains not just to information sharing, but also to employees' perception of other workers, Netflix's organization, and the global industry. For example, the corporate culture facilitates objectiveness in workers' behaviors, especially in teamwork and related group activities that support multinational streaming operations. To address this characteristic of the organizational culture, Netflix's human resource management has strategies and programs for motivating the workforce to adopt this attitude in their social interactions in the workplace.
Focus on high effectiveness leads Netflix Inc. to emphasize high productivity and job effectiveness through programs related to the corporate culture. For example, the business uses its organizational culture to show that high productivity and effectiveness are the norm in the media streaming workplace, thereby motivating employees to adopt job techniques for high effectiveness. This cultural attribute pertains to organizational efforts for the fulfillment of Netflix's corporate vision and mission statements. In relation, the achievement of strategic management goals are supported through the corporate culture, in terms of how human resources are encouraged to reach the productivity levels necessary for long-term success in the online entertainment industry. Also, operations management at Netflix Inc. depends on how this organizational culture characteristic results in operational effectiveness and efficiency.
Rule avoidance makes Netflix's corporate culture unusual. This cultural trait is based on the idea that rules lead to online business rigidity, which reduces responsiveness to market changes. In this business analysis case, Netflix Inc. applies its organizational culture to create and maintain flexibility to adapt to market trends. The global on-demand digital content streaming market involves frequent changes in technologies and consumer preferences. Through rule avoidance in its corporate culture, Netflix maintains business flexibility and enables its organization to adjust and ensure consumer satisfaction.
Strategic Implications of Netflix's Corporate Culture
The aforementioned organizational culture characteristics reinforce the business strengths shown in the SWOT analysis of Netflix Inc. For example, the corporate cultural focus on high effectiveness optimizes customer satisfaction, which in turn reinforces the movie streaming company's brand equity. In relation, the core competencies identified in the VRIN/VRIO analysis and value chain analysis of Netflix Inc. are supported through the corporate culture. For instance, the corporation's cultural support for information sharing makes the online content platform flexible and responsive to consumer preferences and related trends. In this way, the organizational culture influences Netflix's strategies, not just in terms of human resource management, but also operations management and technological innovation. The streaming enterprise achieves its strategic objectives through this organizational cultural support. Other strategies, such as those used in Netflix's marketing mix or 4P, depend on how the company's workforce embody and use the corporate culture and related core values and business philosophy to achieve job objectives.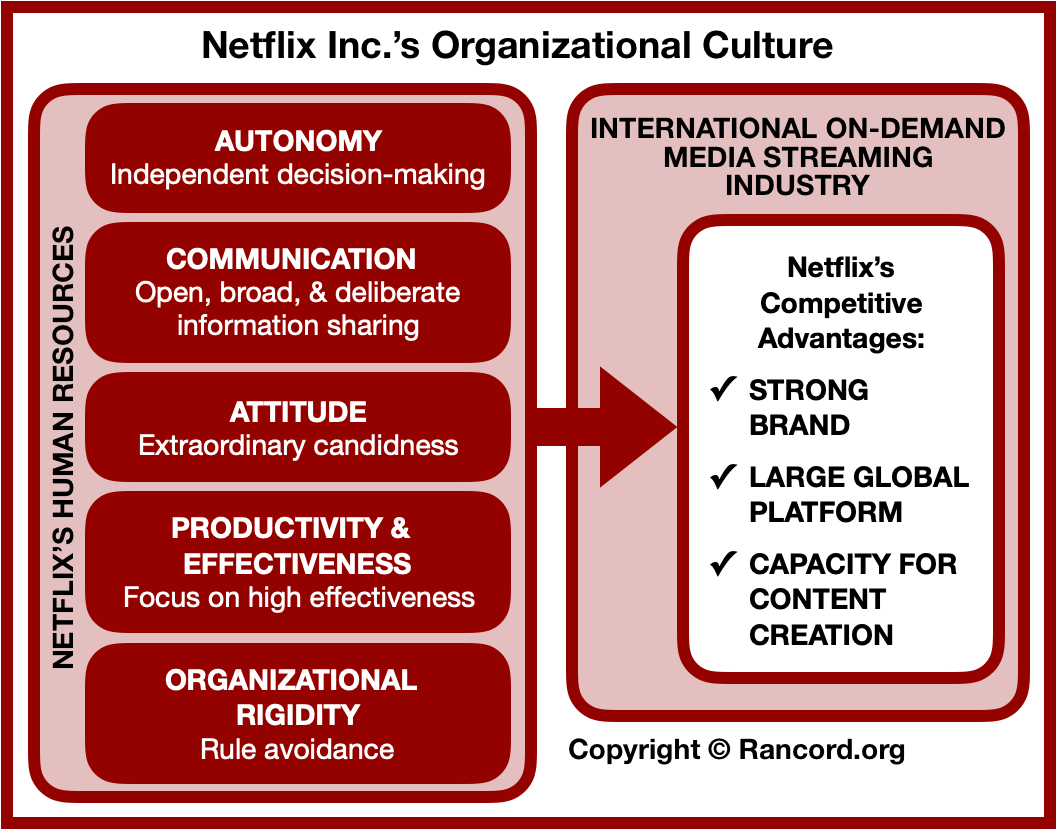 Key Points on Netflix's Organizational Culture
As a major competitor in the international media streaming industry, Netflix Inc. strategically uses its corporate culture to optimize human resource competencies. The emphases on employee autonomy, communication, attitude, productivity, and rule avoidance create a business situation where employees are motivated to take risks and deliver innovative ideas that contribute to the online company's competitive advantage. Such an organizational culture makes Netflix's human resources flexible and readily responsive to challenges in the industry. The expected behavioral outcomes of this corporate culture relate to the nature of the company's operations in the on-demand media streaming industry. For example, workers are motivated to share ideas that strengthen the alignment between Netflix's service and market trends. In terms of strategic planning, the organizational culture makes the streaming business capable of implementing strategies and tactics that utilize human resource ingenuity to support operational enhancements. Overall, Netflix maintains a corporate culture that helps keep its organization flexible, innovative, and responsive to market demand and consumer preferences.
References
Chang, C. L. H., & Lin, T. C. (2015). The role of organizational culture in the knowledge management process. Journal of Knowledge Management, 19(3), 433-455.
Hickman, C. R., & Silva, M. A. (2018). Creating excellence: Managing corporate culture, strategy, and change in the new age. Routledge.
International Trade Administration of the U.S. Department of Commerce – The Media and Entertainment Industry in the United States.
International Trade Administration of the U.S. Department of Commerce – The Software and Information Technology Services Industry in the United States.
Liang, C., Chang, C. C., Rothwell, W., & Shu, K. M. (2016). Influences of organizational culture on knowledge sharing in an online virtual community: Interactive effects of trust, communication and leadership. Journal of Organizational and End User Computing (JOEUC), 28(4), 15-32.
Simeon, R. (2010). Evaluating the projection of corporate culture online. International Business & Economics Research Journal (IBER), 9(8), 79-94.