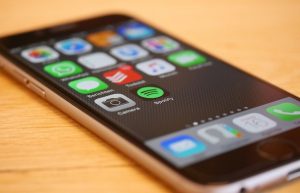 Spotify Technology S.A. has corporate mission and vision statements that focus on increasing the reach and operational effectiveness of its global online network for streaming music. A corporation's mission statement defines business operations and their overall purpose. For example, Spotify's corporate mission directs attention to the functional benefit of its online network platform for artists and fans. On the other hand, a company's vision statement defines a target for the business, to guide its operations. Spotify's corporate vision focuses on facilitating a form of cultural exchange through digital content on the network. The firm's strategic management activities are offshoots of the implementation of these corporate statements. Business competitive advantages, strengths, and core competencies, such as the ones described in the SWOT analysis of Spotify Technology S.A., provide the necessary foundation to achieve the corporate vision and mission statements. Such achievement indicates the importance of the corporate statements in successful online service operations in a highly competitive market.
Appropriate strategies and operational effectiveness to achieve the corporate mission and vision statements reinforce Spotify's competitive advantage to withstand the external forces of such major players as Apple (Apple Music), Google (Google Play Music), Amazon (Amazon Music), and Pandora, among other notable online firms. Even Walmart has the technological and operational capacity to directly compete in the on-demand music streaming market. The rapid technological development in the industry requires that Spotify Technology S.A. fulfill its corporate vision and mission statements with a sense of urgency.
Spotify's Mission Statement for a Win-Win Two-Sided Marketplace
Spotify's corporate mission is "to unlock the potential of human creativity by giving a million creative artists the opportunity to live off their art and billions of fans the opportunity to enjoy and be inspired by these creators." In this corporate mission statement, the company declares its purpose in supporting creative work, creators' livelihood, and worthwhile access to these creators' works. Such emphases indicate the company's function in the music industry, in terms of the benefits of Spotify Technology S.A.'s value chain for creators and content consumers, who are the main drivers that push the business forward to a bigger and more dominant market position.
Spotify's corporate mission focuses on the involvement of two main sides: creators and consumers. As an online music marketplace, the company is a global platform enterprise that strategically exploits the value of network effects. For example, Spotify's platform offers a network for creators and consumers. This network platform or marketplace is valuable to creators in providing profitable opportunities to create and sell art, i.e., music. On the other hand, the business is valuable to consumers (fans or subscribers) in terms of accessing creative outputs for enjoyment and inspiration, as specified in the corporate mission statement. Spotify has already managed to establish a multinational presence. Now the challenge is to continue expanding its operations to fulfill the mission statement's focus on benefitting artists and fans, globally. This expansion requires accompanying adjustments in Spotify's corporate structure. Of note is the similarity between the company's mission and corporate vision statement.
Spotify's Vision Statement for a Cultural Platform
Spotify's corporate vision is to be "a cultural platform where professional creators can break free of their medium's constraints and where everyone can enjoy an immersive artistic experience that enables us to empathize with each other and to feel part of a greater whole." The company's nature as a platform, and the metaphysical value of the music streaming business are specified in this corporate vision statement. In essence, Spotify considers itself as a promoter of international societal improvement via cultural relations.
Compared to the corporate mission, Spotify's vision statement is a relatively abstract perspective on the nature of the business, especially in terms of how it affects two of the major stakeholder groups, namely, the creators and the consumers of digital content. The vision's emphasis on culture is an indicator of how Spotify sees its position not just in the global on-demand streaming music industry and market, but also in the world's society. The corporation aims to promote empathic and harmonious relations for the global community. This business nature consideration in the corporate vision statement is a reflection of the business model and strategies of Spotify Technology S.A. For example, the company's model as a platform business supports cultural exchange among customers. The corporate vision also relates to Spotify's corporate culture in the aspect of human resource management that allows employees' cultural backgrounds to influence the administration of the company's curated playlists.
Key Points on Spotify's Corporate Mission & Corporate Vision
With its mission statement, Spotify Technology S.A. details the basic function of the business and its operations. For instance, the corporate mission statement specifies that the company is a facilitator of artists' profitable livelihood, while benefitting consumers through mobile and non-mobile access to an ever-expanding collection of digital content. This specification in the mission guides Spotify's managers in strategic planning for bringing the online streaming service to more customers worldwide.
The vision statement of Spotify Technology S.A. adds the cultural aspect of the business. This cultural characterization of the business is an inspirational component of the company's corporate vision statement. Spotify reaches out to employees, customers, and investors through this cultural factor. In this way, the vision contributes to the music streaming company's effectiveness in managing stakeholders' expectations. This vision also promotes Spotify's brand and online services in various on-demand digital content markets around the world.
References
Bartkus, B., Glassman, M., & McAFEE, B. (2006). Mission statement quality and financial performance. European Management Journal, 24(1), 86-94.
Gill, J., & Swann, P. (2002). Corporate vision and rapid technological change: The evolution of market structure. Routledge.
International Trade Administration of the U.S. Department of Commerce – The Media and Entertainment Industry in the United States.
Long, C., & Vickers-Koch, M. (1994). Creating a vision statement that is shared and works. The Journal for Quality and Participation, 17(3), 74.
Omran, M., Atrill, P., & Pointon, J. (2002). Shareholders versus stakeholders: Corporate mission statements and investor returns. Business Ethics: A European Review, 11(4), 318-326.
Pace, S. (2017). Shaping corporate brands: From product features to corporate mission. International Studies of Management & Organization, 47(2), 197-205.
Rion-Gaboury, J. (2005). From Words to Action: A Vision Statement Can Do More than Light a Path. Leadership, 34(5), 14.
Slack, F. J., Orife, J. N., & Anderson, F. P. (2010). Effects of commitment to corporate vision on employee satisfaction with their organization: An empirical study in the United States. International Journal of Management, 27(3), 421.
Swales, J. M., & Rogers, P. S. (1995). Discourse and the projection of corporate culture: The mission statement. Discourse & Society, 6(2), 223-242.