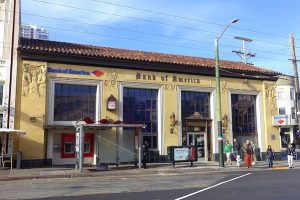 Bank of America Corporation's (BoA/BofA) organizational culture determines the quality of service provided to the company's clientele. This cultural system defines the values, beliefs, and behavioral expectations that govern the actions of the banking company's human resources. For example, the corporate culture affects leadership and team activity in Bank of America and its subsidiaries, such as Merrill (formerly Merrill Lynch). Considering that banking is a service business, the company's leaders understand the importance of the organizational culture in shaping the kind of human resources available to support growth of operations. In this way, Bank of America Corporation's organizational culture reflects the human resource management pressures and challenges relevant to the industry. These pressures and challenges are pertinent to the strategic management efforts of firms in the financial services industry. Bank of America Corporation derives part of its profitability, strategic business growth, and customer satisfaction from its corporate culture.
Bank of America has integrated programs, policies, and strategies for corporate culture development, based on recognizing that the company's performance is affected through cultural factors within the organization. The effectiveness of this organizational cultural approach helps the company counter the effects of competitors, especially large firms like Citigroup, Wells Fargo, and JPMorgan Chase. Thus, the corporate culture is used as a strategic tool that aligns human resources with Bank of America's corporate mission and vision statements, and related long-term strategic plans of the business for achieving and maintaining leadership in the global financial services market.
Bank of America's Organizational Culture
Bank of America's organizational culture is for ethics and teamwork in the company's multinational operations, with cultural traits that motivate employees to abide by the organization's philosophy and core values. The resulting human resource management situation reflects the needs of the company in terms of culturally supporting its competitive advantages in the financial services industry. The following characteristics define Bank of America's corporate culture:
Leadership accountability
Ethical conduct
Disciplined management of risk
Team orientation
Empowerment through diversity
Leadership Accountability. Bank of America's organizational culture promotes accountability among leaders and decision makers. Accountability is integrated in leadership development programs throughout the financial services enterprise. In addition, Bank of America's annual review of policies is part of maintaining the corporate culture to ensure compliance and proper conduct. This review and efforts in leadership accountability integrate stakeholders' concerns and related strategic management issues relevant to the commercial banking business. This cultural factor establishes decision makers' accountability in the formulation of Bank of America's intensive growth strategies and generic strategy for competitive advantage.
Ethical Conduct. Ethical conduct is another cultural emphasis in Bank of America's human resource development. This element of the corporate culture relates to compliance based on the company's codes of conduct that apply to the entire organization, including subsidiaries like BofA Securities (formerly Bank of America Merrill Lynch) and Bank of America Private Bank (formerly U.S. Trust). The ethical aspect of the banking company's organizational culture is reinforced through a multi-pronged approach, including recognition programs for ethical conduct, as well as an Ethics and Compliance hotline that workers can use to make anonymous reports of ethical issues in the workplace. Furthermore, Bank of America applies ethics throughout the employee lifecycle. For example, the organizational culture integrates ethics in hiring, training, and promotion of the company's bank employees. This cultural factor is linked to business efforts to address industry trends related to Bank of America's corporate social responsibility efforts.
Disciplined Management of Risk. Risk is a major factor in the strategic management of financial institutions. In this case, such risk and its implications are included in Bank of America's corporate culture. For example, the company's organizational culture motivates workers to take responsibility for the risk management aspect of their jobs. The corporation considers this cultural factor a contributor to the overall sustainability of the financial services business and to the strengths needed to compete in the industry. This cultural factor minimizes the adverse consequences of business risks in commercial banking and related operations. This element of the corporate culture helps reinforce the strengths identified in the SWOT analysis of Bank of America Corporation.
Team Orientation. In its organizational culture, Bank of America includes formal and informal measures to maintain effective teams in the workforce. The company inculcates values like mutual trust and accountability among team members, leading to effective teams that take ownership of their actions and contribute more net benefit to the financial services business. This organizational culture support for teamwork relates to the teams and divisions in Bank of America's organizational structure. The company believes that this aspect of the corporate culture ensures that its banking operations deliver value to stakeholders – clients, employees, communities, and shareholders.
Empowerment through Diversity. Bank of America's organizational culture motivates employees to adopt behaviors that support diversity. One of the company's beliefs is that human resource diversity enhances the competitive advantage of its financial services. As a result, Bank of America uses its corporate culture to empower workers. For example, the company culturally supports diversity by respecting individual differences while facilitating employee development, such as in training front-end workers at bank branches. This element of the organizational culture makes Bank of America more responsive to the cultural diversity of clients.
Strategic Implications of Bank of America's Corporate Culture
The organizational culture of Bank of America Corporation requires consideration for the company's cultural factors in strategic management. For example, leadership accountability makes the banking company's strategies include measures and metrics for monitoring strategic results and their links to leaders' decisions. On the other hand, the cultural emphasis on team orientation requires Bank of America's strategic management decisions to utilize teams, such as in team-based strategies for marketing. Moreover, to support the corporate culture's empowerment of employees through diversity, the banking company's strategic management approaches utilize and support such diversity in the workforce. These strategic implications of Bank of America's organizational culture influence how the business develops and addresses problems encountered in the market.
Key Points on Bank of America Corporation's Organizational Culture
Bank of America broadly applies ethics in its corporate culture, along with a focus on teamwork to support operations. The cultural qualities of leadership accountability, ethical conduct, disciplined management of risk, and empowerment through diversity are all linked to business ethics application in the financial services corporation. The focus on teamwork in Bank of America's organizational culture is a way to optimize human resource productivity by leveraging potential synergies among team members. The company's financial services are made efficient through teams that function as unified groups. Overall, Bank of America's corporate culture binds human resources together and helps minimize strategic challenges in growing the business.
References
Bank of America Corporation's Annual Report for the U.S. Securities and Exchange Commission (Form 10-K).
Brubakk, B., & Wilkinson, A. (1996). Agents of change? Bank branch managers and the management of corporate culture change. International Journal of Service Industry Management, 7(2), 21-43.
Elsbach, K. D., & Stigliani, I. (2018). Design thinking and organizational culture: A review and framework for future research. Journal of Management, 44(6), 2274-2306.
International Trade Administration of the U.S. Department of Commerce – The Financial Services Industry in the United States.
Kotter, J. P. (2008). Corporate culture and performance. Simon and Schuster.
Schein, E. H. (2010). Organizational culture and leadership (Vol. 2). John Wiley & Sons.