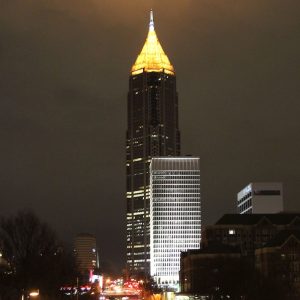 Bank of America (BofA/BoA) follows its corporate mission and vision statements toward becoming the leading competitor in the global financial services industry, while maximizing the benefits of its services for target customers worldwide. The company's mission statement ensures that strategic decisions are aligned with the business purpose of addressing clients' needs for accessing beneficial financial services and related products. Bank of America's vision statement directs strategic management toward leadership in the global industry. The corporate vision and mission statements influence the company's operations to become an even bigger financial services business organization and to maintain high quality standards that match customers' expectations and needs. The mission statement and the vision statement guide Bank of America's operations and strategic management against competitors like Citigroup, JPMorgan Chase, and Wells Fargo. These competitors have strong capabilities to grow, capture bigger market shares, and reduce Bank of America's market share in the United States and foreign markets.
The corporate vision and mission statements influence quality standards and operational output design, involving Bank of America's operations management, to satisfy clients, strengthen business competitive advantages, and ensure profitability. The corporate mission and vision statements' application is comprehensive throughout the company's operations, including those of its subsidiaries, such as Merrill (formerly Merrill Lynch), BofA Securities (formerly Bank of America Merrill Lynch), and Bank of America Private Bank (formerly U.S. Trust).
Bank of America's Mission Statement – Better Finances through Connections
Bank of America's corporate mission is "to help make financial lives better by connecting clients and communities to the resource they need to be successful." As included in some of the company's official documents and statements, a shorter version of this corporate mission is "to help make financial lives better through the power of every connection." This mission statement is specific to satisfying the needs of target customers in using Bank of America's financial products, with the goal of improving customers' financial situations, while the business profits in the process of providing financial services.
The corporate mission statement specifies "connections," whose effectiveness depends on business competitiveness and operational scale, which in turn depend on the success of Bank of America's generic strategy for competitive advantage and intensive growth strategies. As one of the world's biggest banking institutions, considering its mission statement, the company needs to grow its business footprint to maximize the scope and scale of its reach to clients and access to financial resources. In addition, the expansion of Bank of America's organizational structure influences the scale and scope of these connections and how the business fulfills its mission statement and value proposition to target customers. This value proposition focuses on linking the right financial resources to clients. Thus, Bank of America's value chain activities and core competencies, based on the VRIO & VRIN analysis frameworks, are significant strategic factors in the company's fulfillment of its corporate mission statement. The business needs to create and keep improving its connections with customers and financial resources to attain the objectives of the mission statement. Optimizing the value and benefits of such connections specified in the mission statement comes with the need to internationally expand Bank of America's operations, in line with the strategic objectives of the company's vision statement for global industry leadership.
Bank of America's Vision Statement – Leadership in Financial Services
Bank of America's corporate vision is "to be the world's finest financial services company." CEO Brian Moynihan announced this vision statement as a main goal of the financial services enterprise. Considering its industry position as one of the biggest competitors, Bank of America is in a strong position to fulfill its vision statement. However, the company's current footprint has not yet fully penetrated the international financial services market. Thus, to achieve the corporate vision statement, Bank of America needs to expand its operations in markets around the world.
The "finest" factor in the vision statement relates to Bank of America's organizational culture and its influence on the quality of the company's services. With this point, cultural factors and related strategic objectives in human resource administration and banking business philosophy must evolve to support competitive advantages necessary to achieve the company's corporate vision statement. In addition, the global industry leadership aimed in the vision statement implies that appropriate business strengths must be developed and utilized, pertaining to opportunities and other relevant strategic factors determinable through a SWOT analysis of Bank of America Corporation. The company must continue evolving to address competition with strong financial services firms like JPMorgan Chase and Citigroup. Furthermore, Bank of America's marketing mix (4Ps) is a factor that affects how the business expands its operations to fulfill its corporate vision statement, considering product attractiveness and communication strategies used to gain a bigger market share. The company's vision statement points to strategic targets that require strong competitive advantages for satisfying customers through beneficial connections to financial products, as stated in the corporate mission statement. These targets are in the context of the global financial services market, which is saturated with aggressive and innovative firms competing against Bank of America.
Key Points on Bank of America's Corporate Mission & Corporate Vision
Bank of America's corporate mission statement establishes the company's purpose and function in providing target customers with access to financial resources and related services. This mission statement focuses on the benefits of connections, which in this case implies access to financial resources that is made available through the company's products, such as commercial banking, wealth management, and investment banking services. Thus, the corporate mission statement presents the nature of Bank of America's business, as well as the strategic goals of the enterprise in developing its products to address customers' demand. The mission statement also requires the corporation to ensure satisfactory performance that prioritizes customers.
Bank of America's corporate vision statement sets the company's long-term aim of becoming a global leader in the financial services industry. The vision statement focuses on the global industry, as well as on the "finest" factor, which is a subjective criterion in evaluating the company's banking services. In this regard, Bank of America can make its corporate vision statement better by specifying how being the "finest" can be achieved or measured. Overall, the company's vision statement gives insights about long-term strategic plans and potential business growth trajectory in relation to the international financial services market, and with regard to competition among multinational firms.
References
Bank of America Corporation – Bank of America Sets Long-term Goal of More Than 10 Percent Annual EPS Growth.
Bank of America Corporation – Investor Relations – Bank of America Adds to Executive Management Team.
Bank of America Corporation's Annual Report for the U.S. Securities and Exchange Commission (Form 10-K).
Bartkus, B., Glassman, M., & McAfee, B. (2006). Mission statement quality and financial performance. European Management Journal, 24(1), 86-94.
Grünig, R., & Kühn, R. (2018). Stakeholder Analysis and Revising the Mission Statement. In The Strategy Planning Process (pp. 77-83). Springer, Berlin, Heidelberg.
International Trade Administration of the U.S. Department of Commerce – The Financial Services Industry in the United States.
Kirkpatrick, S. A. (2017). Toward a Grounded Theory: A Qualitative Study of Vision Statement Development. Journal of Management Policy and Practice, 18(1), 87-101.
Kirkpatrick, S. A., Wofford, J. C., & Baum, J. R. (2002). Measuring motive imagery contained in the vision statement. The Leadership Quarterly, 13(2), 139-150.
Pace, S. (2017). Shaping corporate brands: From product features to corporate mission. International Studies of Management & Organization, 47(2), 197-205.
Pearce, J. A., & David, F. (1987). Corporate mission statements: The bottom line. Academy of Management Perspectives, 1(2), 109-115.
Rajegopal, S., McGuin, P., & Waller, J. (2007). Project portfolio management: Leading the corporate vision. Springer.
Tomek, G., Vávrová, V., Červenka, P., Naščáková, J., & Tomčíková, M. (2016). Corporate vision from management development in the globalization context. In Production Management and Engineering Sciences (Vol. 297, No. 303, pp. 297-303). Routledge & GSE Research.