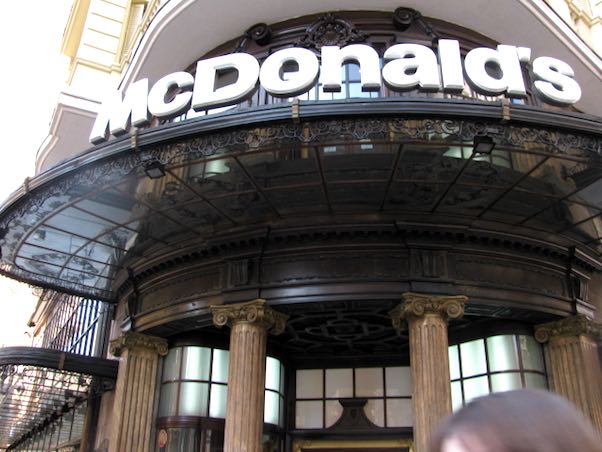 McDonald's Corporation uses its VRIO and VRIN resources and capabilities to keep its fast food restaurant business profitable. In this VRIN/VRIO analysis of the company, such organizational capabilities and resources are the strategic foundation for competitiveness. Considering Jay B. Barney's model, McDonald's core competencies are the resources and capabilities that satisfy the VRIO measures: Value, Rarity, Inimitability (Imperfect Imitability), and Organization. These measures build on the VRIN analysis framework, which includes the non-substitutable (N) criterion. This internal analysis determines core competencies within the resource-based view (RBV) of the fast food company. Using its core competencies, McDonald's Corporation's value chain imposes sustainable competitive advantages against firms like KFC, Subway, Burger King, Wendy's, Dunkin Donuts, and Starbucks. The food service industry's challenges require core competencies for strategic positioning. In the VRIO/VRIN analysis context, McDonald's applies its core competencies to reinforce its value chain's effectiveness to deliver actual value to consumers and ensure long-term competitive advantages in the international fast food market, despite strong strategic hurdles in the U.S. market.
The following section discusses the VRIO and VRIN assessment of the organizational capabilities and resources that influence McDonald's value chain and strategic planning processes. In the resource-based view and the following value chain analysis results, the company utilizes its resources and capabilities to compete against strong multinational food service firms and address market-specific issues. However, as this VRIN/VRIO analysis indicates, McDonald's needs to develop additional core competencies and sustainable competitive advantages to improve the positioning and long-term survival of its restaurant chain business.
McDonald's Corporation VRIO & VRIN Analysis, Table (Resource-Based View)
| | | | | | |
| --- | --- | --- | --- | --- | --- |
| McDONALD'S ORGANIZATIONAL RESOURCES & CAPABILITIES | V | R | I | O | N |
| Moderate uniqueness of food products based on McDonald's-specific recipes | ✔ | | | | |
| Partnership arrangements with third-party delivery service providers | ✔ | | | | |
| New technologies for efficient order processing | ✔ | | | | |
| Effective and efficient human resource development | ✔ | ✔ | | | |
| Efficient food production systems for cost efficiency and low prices | ✔ | ✔ | | | |
| Expansive supply chain | ✔ | ✔ | | | |
| Size of international operations and restaurant franchise network | ✔ | ✔ | | | |
| Economies of scale | ✔ | ✔ | | | |
| McDonald's Sustained Competitive Advantages/Core Competencies: | | | | | |
| Globally recognized iconic McDonald's brand | ✔ | ✔ | ✔ | ✔ | ✔ |
| Portfolio of popular trademarks | ✔ | ✔ | ✔ | ✔ | ✔ |
This VRIN/VRIO analysis table is best viewed using HTML5-compatible browsers.
Non-core Competencies. McDonald's Corporation has numerous resources and capabilities that are non-core competencies indicated in the VRIO/VRIN analysis table. In the resource-based view, these competencies support the restaurant company's value chain's operational effectiveness but not long-term competitive advantage. For example, McDonald's partnerships with third-party delivery service providers are an organizational capability under the company's strategic digital initiative. Delivery service providers like Uber Eats (a subsidiary of Uber Technologies Inc.) bring fast food to customers' doorsteps. New order processing technologies are organizational resources that are also part of the company's digital initiative considered in this internal analysis. For example, McDonald's mobile app integrates the Apple Pay mobile payment processing service provided by Apple Inc. This strategic resource improves value chain effectiveness and customers' ease in purchasing. Such strategic capabilities and resources, together with McDonald's food product uniqueness, HR development, production systems, supply chain and associated supply chain management, franchise network, and economies of scale are non-core competencies that do not satisfy all of the VRIN and VRIO criteria, especially inimitability (VRIO analysis model), and non-substitutability (VRIN analysis framework).
VRIO Core Competencies (Long-Term Competitive Advantages) of McDonald's. Two core competencies are identified in this VRIO analysis of McDonald's Corporation. The company's brand is an organizational resource for profitability through brand recall (when customers think of where to have their meal) and through positive brand image of products. In the VRIO analysis context, McDonald's brand has high value and is rare in the industry. Competing restaurant businesses cannot imitate the brand nor readily create an equally strong brand. Moreover, McDonald's value chain is organized around the maximum strategic utilization of the brand as a core competency for sustainable competitive advantage in the international food service industry. On the other hand, the trademarks portfolio is an organizational resource and core competency in McDonald's fast food value chain operations. In the VRIO analysis framework, this resource sustains the company's strategic ability to legally protect proprietary designs and information. For example, McDonald's trademarks, including food and beverage names, are a strength that creates an image of uniqueness, even though competitors' products may be similar. In the resource-based view of this core competency resource, the trademarks benefit the business through fast food brand recall among consumers. This resource satisfies the VRIO requirements for the long-term competitive advantage of McDonald's restaurant business.
VRIN Resources and Capabilities of McDonald's Corporation. In the resource-based view, the difference between the VRIN and VRIO frameworks is in the "O" or "organization" (VRIO analysis) and the "N" or "non-substitutable" (VRIN analysis) criteria. In this case, McDonald's Corporation's VRIO core competencies are also the resources and capabilities that provide sustainable competitive advantage based on the VRIN framework. For example, the company's brand satisfies the V, R, and I criteria, as well as the N criterion. The McDonald's brand is non-substitutable because no other company can legally have the same brand. The resulting brand-based competitive edge is unique to McDonald's and its value chain. The portfolio of popular trademarks also provides sustainable competitive advantage because it is a non-substitutable resource based on the VRIN analysis model. These trademarks are legally protected. McDonald's uses its trademarks to effectively promote products and optimize its value chain to deliver these products to saturated food service markets worldwide. Based on the VRIN test, this resource is a main source of McDonald's sustained competitive advantage.
McDonald's Value Chain Analysis: How the VRIN/VRIO Resources and Capabilities Relate to the Value Chain
The core competencies in this VRIN/VRIO analysis play significant roles in McDonald's value chain. Considering the resource-based view and Michael E. Porter's value chain conceptualization, the company's value chain provides affordable and satisfactory foods, beverages, related products, and food service to target consumers. The following diagram illustrates McDonald's value chain and its position in the larger value system of the fast food service industry: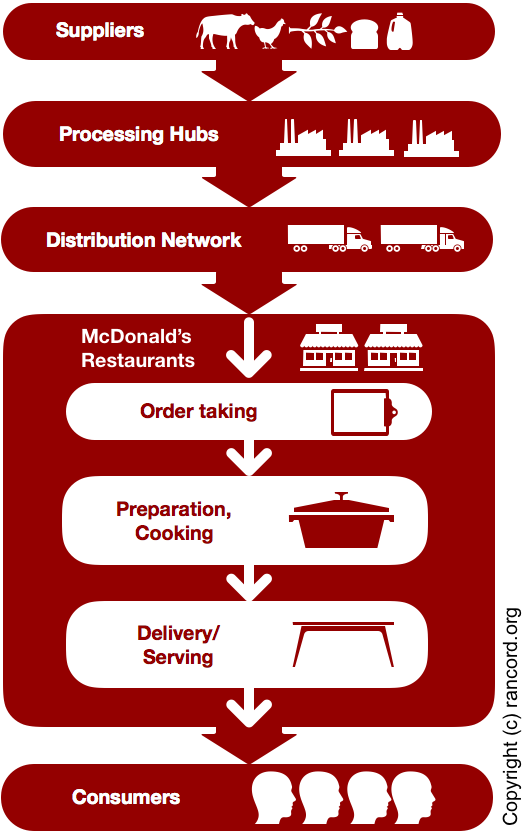 McDonald's value chain is a component of the industry's value system. The value system is composed of various other value chains of the business units of all organizations involved, such as the company's beverage suppliers and the rest of the supply chain. In the value chain diagram, McDonald's owns and operates some of the processing hubs and parts of the distribution network. For example, the company has a distribution network for the transport of intermediary food products to individual restaurants. In this value chain and the value system, McDonald's competitive advantages and competencies identified through the VRIO/VRIN framework are significant in how the company's processes provide value and benefit to the end consumer. For instance, McDonald's recipes and production systems are resources and capabilities for preparing and cooking foods based on consumers' orders. In the resource-based view, these core competencies ensure value chain effectiveness and convenience that benefit consumers who value speedy meal preparation, which is part of the company's value proposition. Ultimately, the core competencies determined through the VRIN and VRIO frameworks are the competitive advantages that set McDonald's Corporation and its value chain apart from competitors, and help the business attract consumers, even though many other fast food restaurants offer similar and competitively priced products.
Key Points from the VRIN/VRIO Analysis and Value Chain Analysis of McDonald's Corporation
The food service core competencies of McDonald's are organizational resources and capabilities that allow the business to thrive despite heavy competition and strategic challenges in local and regional markets. As this VRIO/VRIN analysis indicates, the relevant core competencies are based on intellectual properties and related proprietary information or designs. The other resources and capabilities shown in the VRIN/VRIO analysis table are non-core competencies that support the restaurant business and its value chain but do not create long-term competitive advantages on their own. McDonald's Corporation's core competencies are strong but limited. In the resource-based view, this limitation presents strategic positioning challenges, as the company fights off aggressive food service competitors.
Some Recommendations. Fortifying McDonald's core competencies can increase sales revenues and grow the company's franchise network. This VRIO/VRIN analysis shows that the company's brand is a major resource for competitive strategies in fast food markets. To strengthen the brand and the corporate image, and to improve the operational effectiveness of its value chain, McDonald's could use innovative marketing and customer relationship management. On the other hand, the company's trademark portfolio is also a core competency in this resource-based view and internal analysis of the restaurant business. Enhancing the portfolio as an organizational resource could increase business resilience against competitors like KFC and Wendy's. McDonald's could create new trademarks and expand its intellectual property filings in additional markets where the business has a weak but potentially big presence. These strategic objectives mitigate the limited number of the company's core competencies shown in this VRIN/VRIO analysis. Furthermore, developing new core competencies could bolster McDonald's against strategic challenges from competition and regulation. For example, innovative food service process automation supports the operational cost-effectiveness of the value chain. McDonald's has already taken steps in this strategic direction through cashier-less restaurants, although this kind of automation is not yet applied throughout the franchise network. Considering the resource-based view, developing new core competencies addresses the need for stronger competitive advantages highlighted in this VRIO/VRIN analysis of McDonald's Corporation.
References
Chatzoglou, P., Chatzoudes, D., Sarigiannidis, L., & Theriou, G. (2018). The role of firm-specific factors in the strategy-performance relationship: Revisiting the resource-based view of the firm and the VRIO framework. Management Research Review, 41(1), 46-73.
Chauradia, A. J., Echambadi, R., Milewicz, C., & Ganesh, J. (2018, July). Advancing the Resource-Based View: Human Capital Investments and Consumer Satisfaction. In Academy of Management Proceedings (Vol. 2018, No. 1, p. 13131). Briarcliff Manor, NY 10510: Academy of Management.
Diharto, A. K., & Budiyanto, M. (2017). A causality model of people equity, VRIN resource, social capital, innovation capability and SMEs performance. Journal of Business and Retail Management Research, 11(4), 124-130.
Economic Research Service of the U.S. Department of Agriculture – Food Service Industry – Market Segments.
Gereffi, G., & Fernandez-Stark, K. (2011). Global value chain analysis: A primer. Center on Globalization, Governance & Competitiveness (CGGC), Duke University, North Carolina, USA.
Hax, A. C. (2010). A Comparison Among the Three Strategic Frameworks: Porter, the Resource-Based View of the Firm, and the Delta Model. In The Delta Model (pp. 207-226). Springer, New York, NY.
Hock Soon, Q., & Mohamed Udin, Z. (2011). Supply chain management from the perspective of value chain flexibility: an exploratory study. Journal of Manufacturing Technology Management, 22(4), 506-526.
Koberg, E., & Longoni, A. (2019). A systematic review of sustainable supply chain management in global supply chains. Journal of Cleaner Production, 207, 1084-1098.
Lee, H. L., & Tang, C. S. (2017). Socially and environmentally responsible value chain innovations: New operations management research opportunities. Management Science, 64(3), 983-996.
Lin, C., Tsai, H. L., Wu, Y. J., & Kiang, M. (2012). A fuzzy quantitative VRIO-based framework for evaluating organizational activities. Management Decision, 50(8), 1396-1411.
Lopes, J., Farinha, L., Ferreira, J. J., & Silveira, P. (2018). Does regional VRIO model help policy-makers to assess the resources of a region? A stakeholder perception approach. Land Use Policy, 79, 659-670.
Mourdoukoutas, P. (2018). McDonald's Is Getting Rid of Store Cashiers As Walmart Brings Them Back. Forbes.
Polansek, T. (2018). McDonald's to curb antibiotic use in its beef supply. Reuters.
Seo, B. G., Park, D. H., & Choi, D. (2016, August). Innovative service concept generation based on integrated framework of design thinking and VRIO: the case of information supporting system for SMEs in Korea. In Proceedings of the 18th Annual International Conference on Electronic Commerce: e-Commerce in Smart connected World (p. 23). ACM.
Sürie, C., & Wagner, M. (2005). Supply chain analysis. In Supply Chain Management and Advanced Planning (pp. 37-63). Springer, Berlin, Heidelberg.
Talaja, A. (2012). Testing VRIN framework: resource value and rareness as sources of competitive advantage and above average performance. Management: Journal of Contemporary Management Issues, 17(2), 51-64.
Taylor, D. H. (2005). Value chain analysis: an approach to supply chain improvement in agri-food chains. International Journal of Physical Distribution & Logistics Management, 35(10), 744-761.
Vanian, J. (2017). McDonald's and Chipotle are Getting Some Apple Pay Love. Fortune.